HERE NOTHING IS WASTED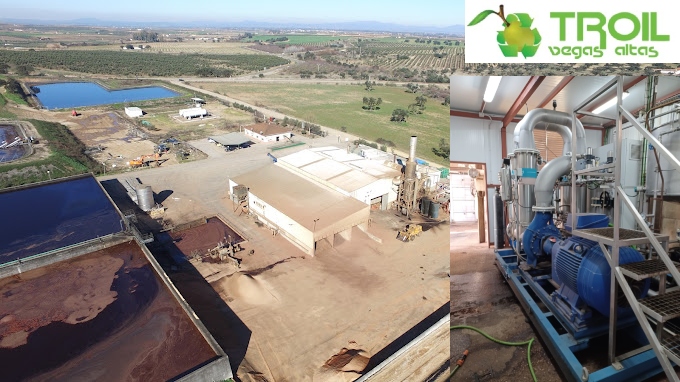 The first growers of the Mediterranean area, 7000 years ago, said that the olive was a heavenly blessing, as a fruit and oil, also used for lighting and cosmetics.
In Las Vegas Altas del Guadiana, they know a lot about olives and how to squeeze every last gram of the green gold.
In the town of Valdetorres (Badajoz), the TROIL VEGAS ALTAS cooperative has facilities sized to treat more than 60,000 tons of vegetable water, which is concentrated and filtered for subsequent extraction of phenols and as a base for organic fertilizer. From a heavenly blessing, nothing should be wasted.
TROIL, founded in 2001, has known how to specialize in the product and its processed products (olive pits, pomace oil, vegetable water, defatted olive pulp and compost, among others), with a sustainable business model, thanks to a cogeneration plant that generates the energy necessary in the process and exports 30 GWh of electrical surplus, reaching, as a whole, an energy efficiency that exceeds 80%, thanks to thermal recovery and use.
TROIL has once again entrusted EMICA with an EBWP 300-500 stainless steel pump, for pumping charged liquids, capable of pumping 784 m3 of vegetable water every hour, at a height of 33m, powered by a 250 kW motor.