Pumps for vacuum systems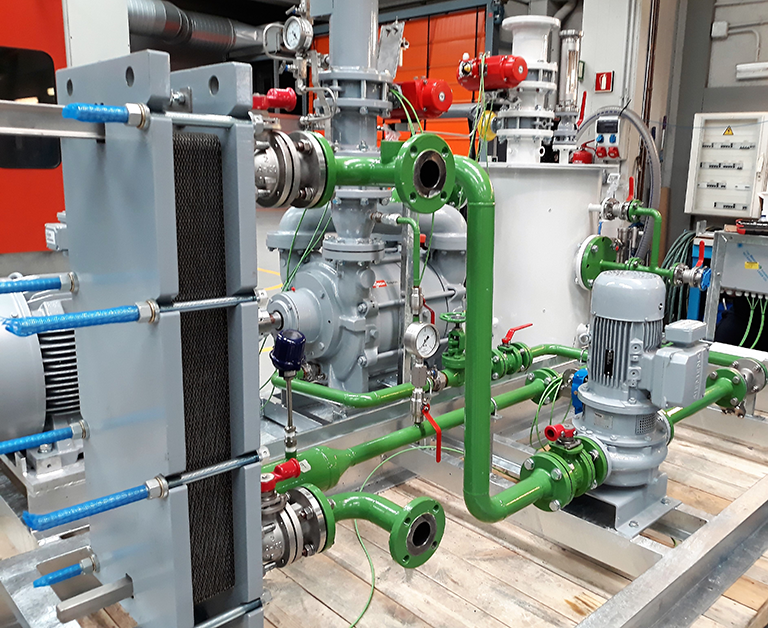 Emica continues adding references in applications in various sectors.
In-line vertical centrifugal pumps EL are monobloc type and they allow to align the suction and the discharge nozzles. Their design is recommended for installation in very reduced spaces, and especially indicated to integrate them in a compact equipment.
In the photo, an EL 50-200 type pump installed in a vacuum equipment designed and manufactured by Busch Ibérica, (belonging to the German group BUSCH Vacuum Pumps and Systems), for the energy sector.
The Busch vacuum systems are equipped with latest generation liquid ring vacuum pumps to evacuate the filtered air from the condensers. In this way, the air that is filtered from the condenser is effectively eliminated, guaranteeing an optimum efficiency factor of the steam turbines, thus increasing the efficiency and reducing the energy costs. This equipment offer capacities between 30 and 10,000 m3/h and are adjusted to different needs of final vacuum. Its flexible design allows to adjust to the different technical requirements of the client to develop projects at a global level.